The Levi Lane family lived in the town of Annisquam in Massachusetts on the Annisquam River. The town of Annisquam derives it name from the American Indian term for harbour. The first known inhabitants were Europeans who settled there circa 1630.

A well known lighthouse sits at the mouth of the river in Annisquam in an area commonly referred to as Wigwam Point, on Cape Ann, near present day Gloucester, MA. Built circa 1800, the lighthouse has been admired by many and some of Annisquam's better known townspeople were Rudyard Kipling and artist Winslow Homer.
Levi Lane, great-grandfather of Eva Moring Behr,was born November 3, 1754 in Annisquam, Essex Co Massachusetts.
He began as a small business owner, making ship sails.
Soon he was a leading merchant and came to own several ships.

Levi Lane was a veteran of the American Revolution and took part in the well known Battle of Bunker Hill under Captain Warner. Levi was a Free Mason and friend of the Marquis De Lafayette. Levi and his family lived on Pine Street in Boston.
Levi Lane passed away on the 21st day of June in 1806. His burial place is the well known Copps Burial Ground at the famous Old North Church of Boston.


Built in 1801 on Wigwam Point in Massachusetts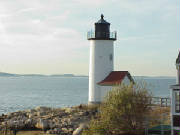 Beautiful Annisquam Lighthouse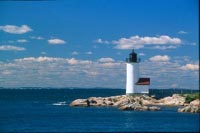 Copyright 1998, 2006 Deborah Shelton Wood - All Rights Reserved
Sources:
Charlotte C. Smith, private email.
Book, "Lane Family", Volume 3 by James Hill Fitts, pulbished in 1902.